Takeaway Menu
Please scroll down to view our takeaway menu during Level 3. Phone us on 09 379 5151 to place your order ahead. Please have your credit card details handy for contactless payment.
We will be open for pick up from 4pm-8:30pm Wednesday to Sunday. We look forward to seeing you.
Click here to download this menu in PDF format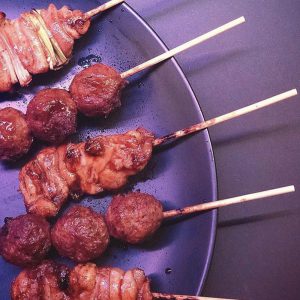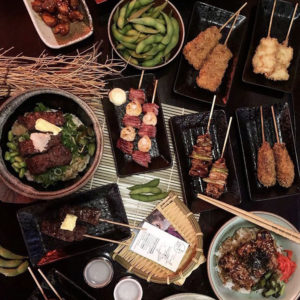 The Cave x Tanuki sushi bar (3 set menus)
COUPLES $50 SET
Tanuki's special miso soup x 2
Tanuki's broccoli with sesame mayo
Salmon and Avocado sushi roll
Yakitori chicken thigh x 2 sticks
Yakitori scotch fillet steak x 2 sticks
Yakitori corn basted with soy butter x 2 sticks
Kushiage white fish fillet with tartare x 2 sticks
FAMILY (feeds 4 people) $100 SET
Spinach, bacon & tomato salad
Takoyaki Octopus balls
Kara age seasoned deep fried chicken
Chicken Teriyaki
Yakitori Vienna sausage with grainy mustard x 4 sticks
Yakitori Chicken tenderloin with cheese x 4 sticks
Yakitori Pork belly x 4 sticks
Yakitori Shrimp & bacon x 4 sticks
Yaki grilled rice balls x 4
Kushiage Mashed kumara with almonds x 2 sticks
Tanuki's home made gyoza dumplings x 8
VEGETARIAN $40 SET
Avocado rolled sushi
Broccoli with sesame mayo *
Edamame (chilled)
Spinach and tomato salad with Japanese dressing
Kushiage Mashed kumara with almond flakes *
Yakitori corn with salt and butter *
Vegetable gyoza dumplings x 6
*(When you call us let us know if you want to swop out the sesame/mayo sauce for the Broccoli dish to avocado dressing/ Mashed kumara kushiage for Yakitori kumara with salt / Yakitori corn with just salt, no butter)
Yakitori
Tender chicken thigh meat $6.50
Chicken skins $5.50
Chicken hearts $5.50
Chicken tenderloin with cheese $6.90
Pork belly $6.50
Scotch fillet steak with butter & soy sauce $8.50
Beef tongue steak $7.80
Vienna sausage with whole grain mustard $6.80
Squid with soy sauce $5.00
Shrimp and bacon with mayonnaise $7.50
Kumara with butter and salt $5.50
Grilled rice ball with soy sauce $4.60
Corn basted with soy sauce & butter $6.50
Kushiage
Breadcrumbed and deep fried – 2 sticks per serving
Kumara $4.70
Scotch fillet steak $8.50
Tender chicken thigh meat $6.20
Cheese $6.00
Squid $5.00
White fish fillet with tartare sauce $6.50
Chicken tenderloin with cheese $8.00
Mashed kumara coated with crispy almond chips $7.80
Salads & Sides
Small bowl of steamed rice $3.60
Large bowl of steamed rice $5.60
Spinach & bacon salad with tomato & onion $8.50
Edamame steamed green soy beans $6.50
Plate of cabbage (with salt & Japanese mayo) $5.00
Takoyaki octopus balls $8.50
Popcorn chicken $8.50
Donburi
Chicken Donburi $14.00
Tender chicken thigh meat on steamed rice with seaweed
Steak Donburi $16.00
Scotch fillet steak with butter, soy sauce and spring onion on steamed rice
Need More…
Mustard & mayo / mustard / wasabi / seaweed / salad dressing $1 each
Yakitori sauce / Japanese mayo / tartare sauce / Japanese pickles $2 each
ALLERGY AND INTOLERANCE NOTICE
Please advise us of any allergies before ordering. We cannot guarantee against traces of allergens.